Saturday, January 26, 2008
Tehri & Dayara Bugyal, January 2008
Day 2 : Nalupani - Dayara Bugyal - Chaam
We started day 2, and plans were made on the fly to ride to Raithal and trek some way to Dayara Bugyal. The road for this place branches off from Bhatwari, and is 18 Kms of absolute smooth rippable roads. The last Km or so is however non surfaced. We rode on till the road ended about 1 Km further from Raithal.

The road ends here:



Raithal village: Base for the Dayara Bugyal trek.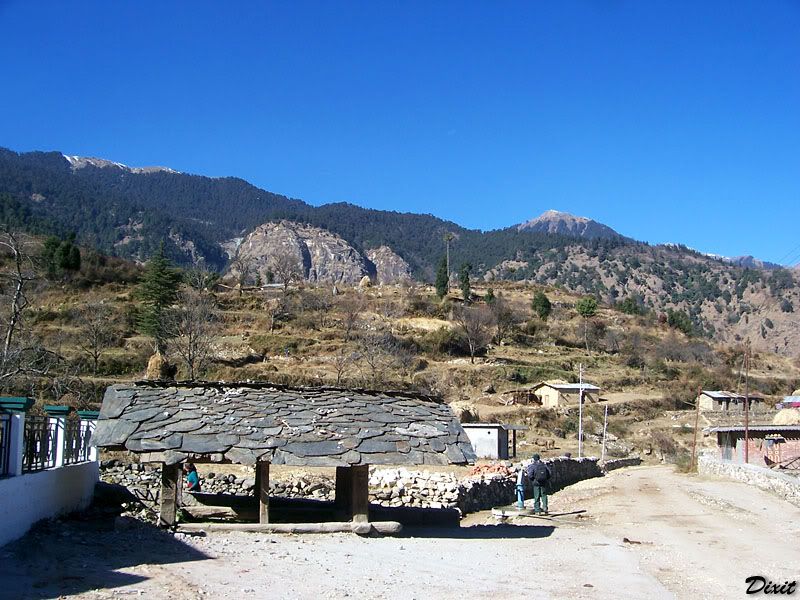 A Uttarakhand Tourism tourist facility, Raithal (Yet to open).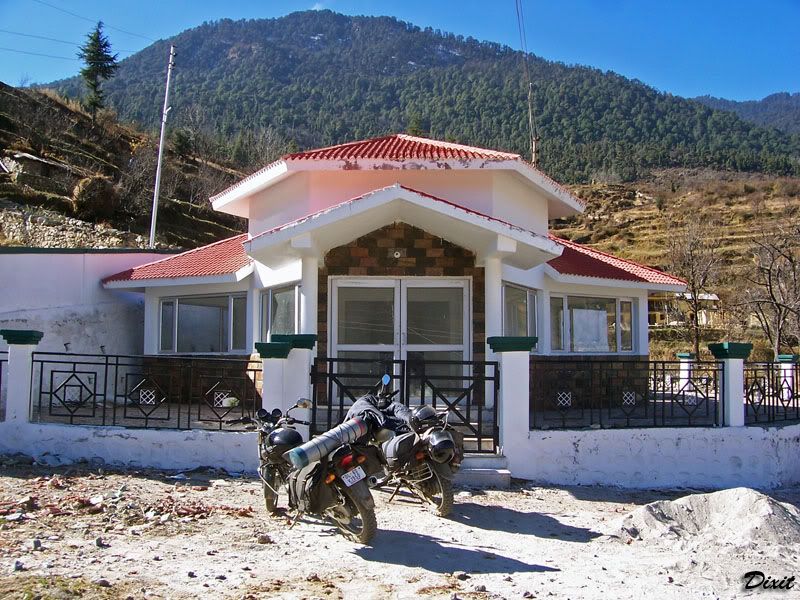 We spoke to some locals and were advised to start the trek early in the morning. It was 12:30 PM and a bit too late in the day to complete the trek and come back to the base. So we decided to trek some way up the trekking route and come back.

The trek starts here and is a paved path for about 200 mts or so.



Then it is a rock lined path for another 200 to 300 mts:



After that the path runs out and you have to follow a path that goes all the way up to Dayara Bugyal.



About 2 Kms into the Trek, there's Forest department's eco huts which was closed as of now.



The trek is very steep and tiring and we had to take breaks every few hundred meters. We decided to rest a bit and start back for Raithal. Dixit spotted a nice stretch of fresh snow on the ground.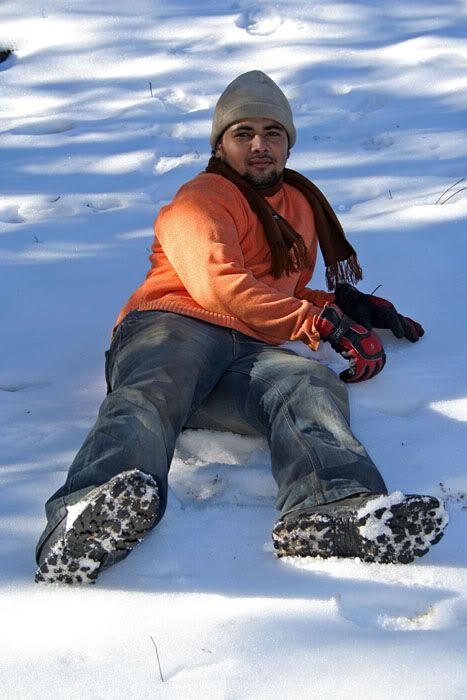 I suggested (jokingly) to go build a snow man. This was first time Dixit chanced upon some nice smooth fallen snow, and took my suggestion a bit too seriously.

After a lot of huffing and puffing and some hard work, Dixit managed to build what looked like a shivling.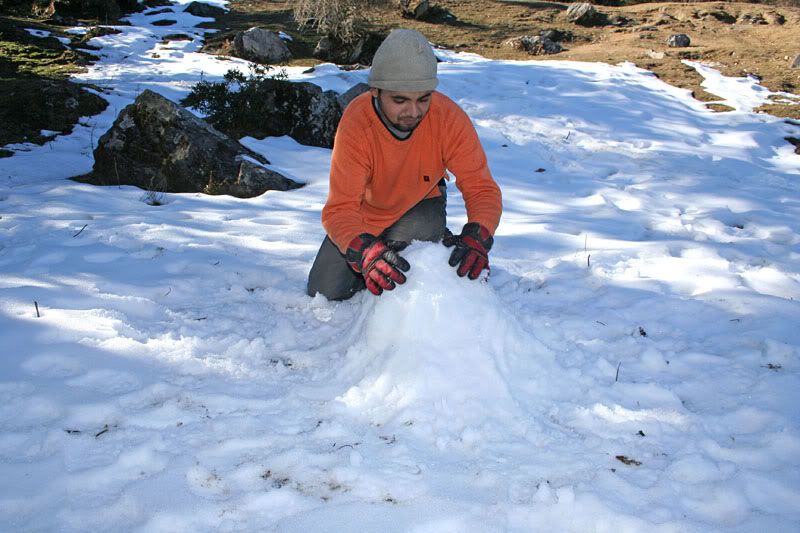 30 minutes into the task, the snowman was looking nothing like a snowman!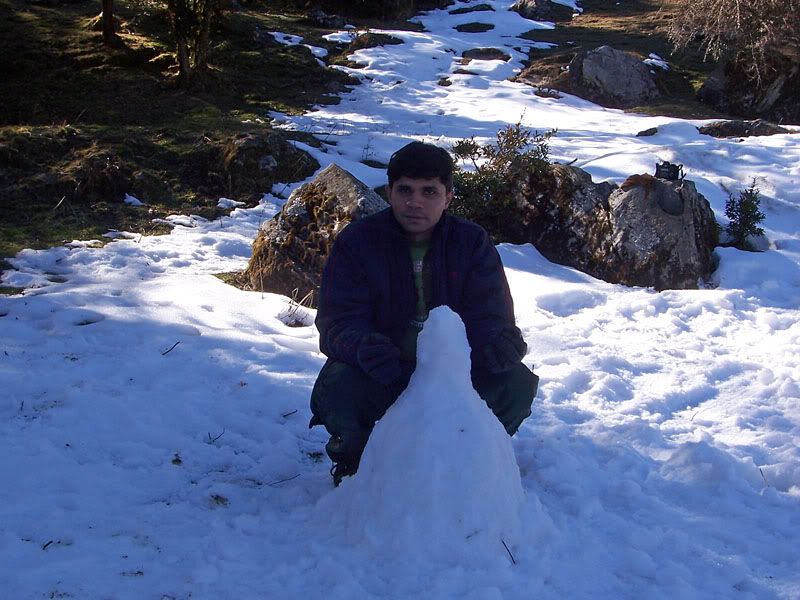 And then I stepped in and in a few minutes, the 'snowman' began to take shape. The finished product:



Posed with our snowman for some pics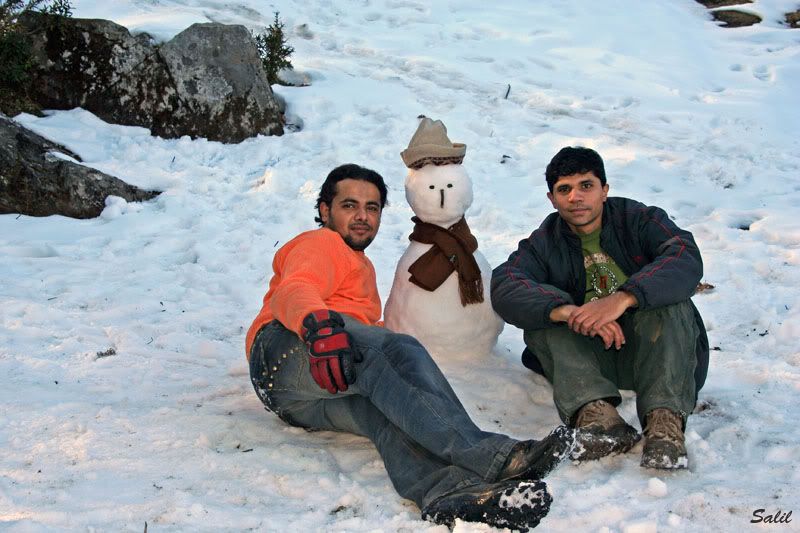 Now that was obviously Dixit's idea:

Mission snowman accomplished, we started the trek down to Raithal. the climb down was relatively easier, and was over in no time. Rode down to Bhatwari, had something to eat and started on the way back. Plan was to get as near to Old Tehri as possible before calling it a day. After a day of fun in the snow, and some hard riding, we ended the day at Kandi Saur (Chham).
Day 3 : Chaam - Old Tehri - Noida
---
Day 1 : Noida to Nalupani
Day 2 : Nalupani - Dayara Bugyal - Chaam
Day 3 : Chaam - Old Tehri - Noida
Comments:
Hi Salil,
Saw your Dayara Bugyal pics (on flickr too)... great shots... well i am planning to do it...this October... lets see what happens...
Post a Comment
<< Home