Tuesday, January 30, 2007
Seruvalsar Lake, January 2007
We reached the PWD guest house at Khanag after dark. Once we settled in, we had a photography session.

The pic below tells a story. While we were at it, the power failed and there was complete darkness. So Manik goes inside, lights up a candle, brings it out and mounts it at the top of the stairs. All in one pic!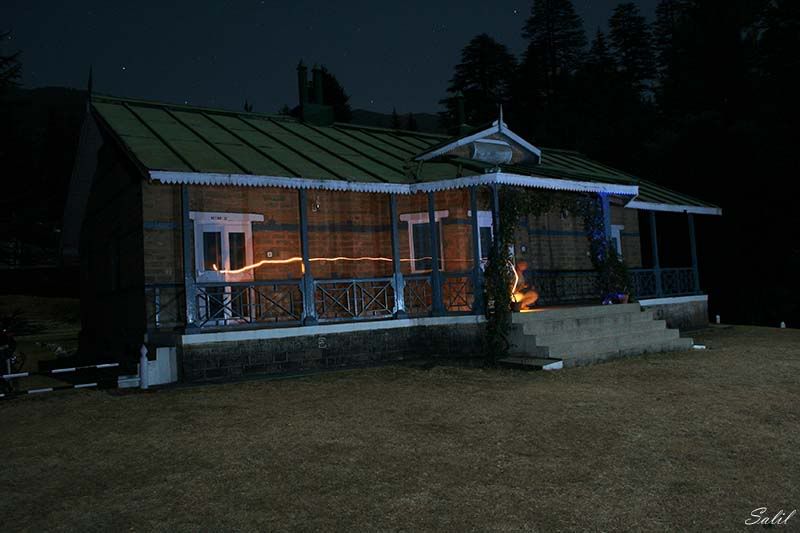 Some experimentation with long exposure shots: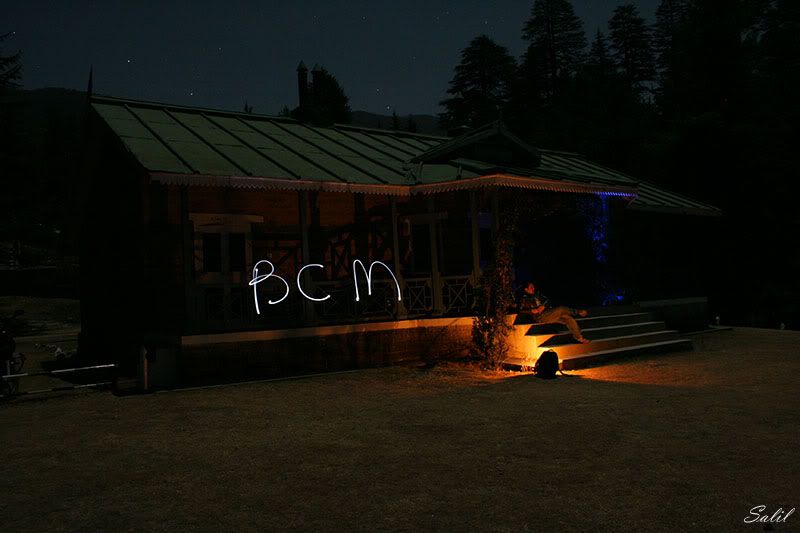 Most of day 2 was spent trekking. We rode to Jalori pass, parked our bikes after riding it as far as we could into the trekking path and started the trek. Trekking in snow was fun, but Manik seemed to have some anxious moments, not being sure of his foothold on the steep snow covered paths.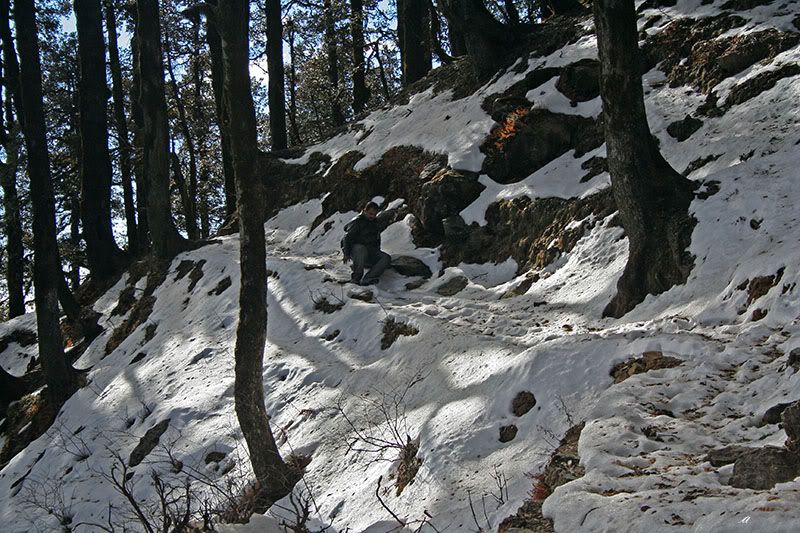 Most of the trekking path was dry. But when there was snow, we had it in plenty.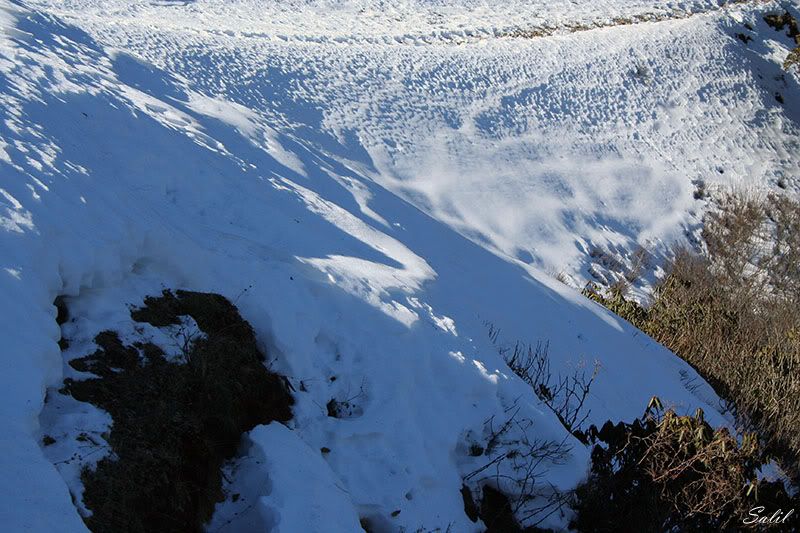 View from the trek route: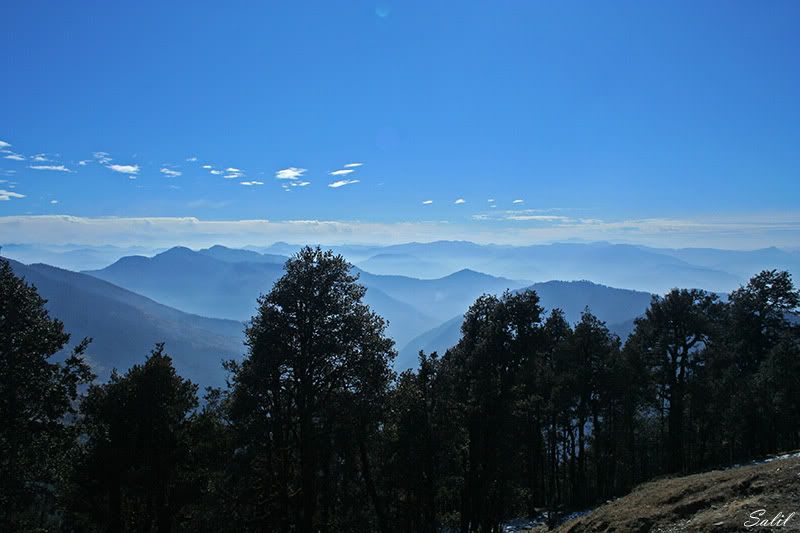 A break...



I stayed back for some photography, while Manik carried on.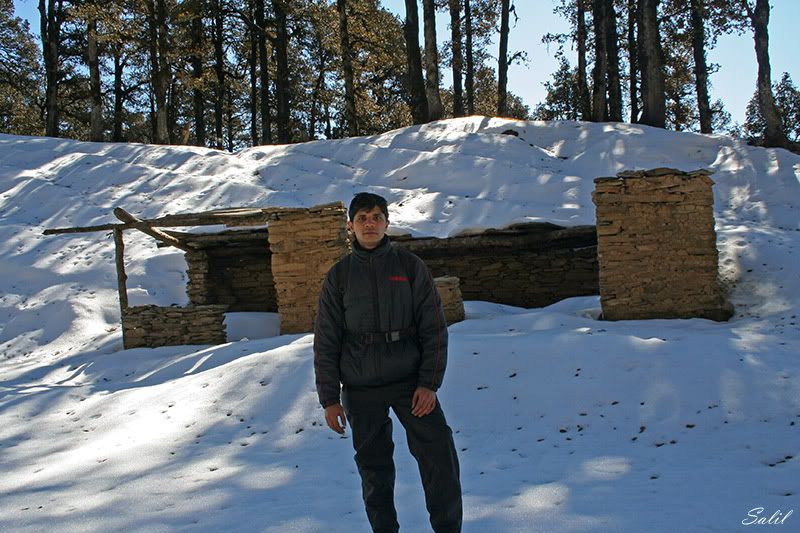 I loved this patch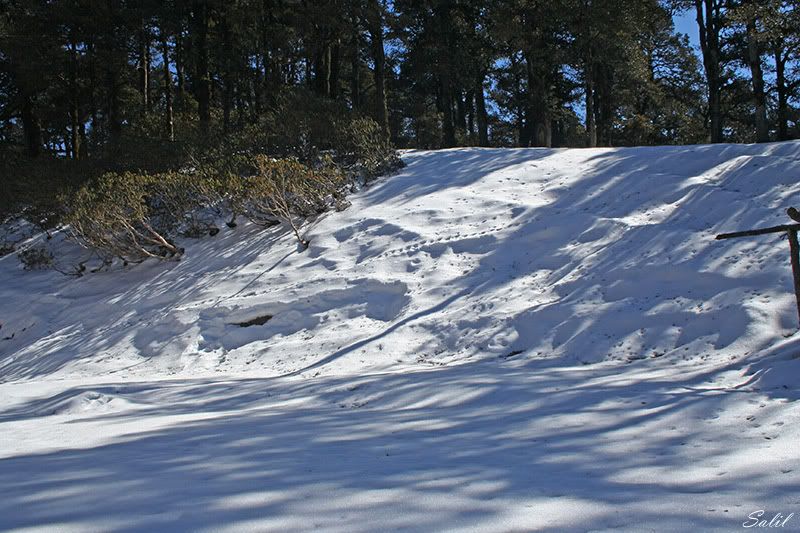 Soon after I had the first view of the lake. This was the first time I am seeing a lake frozen over. First impression I had was that the lake had dried off and there was just sand left over! But a closer look suggested solid ice!



Around the lake: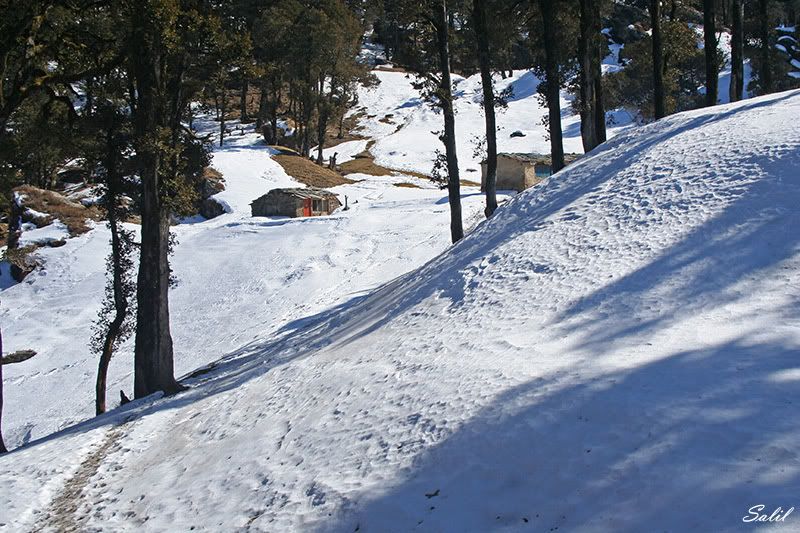 We threw some heavy stones on the lake only to see it bounce off the surface. With some trepidation, and with the help of a long stick in my hand, the other end of which was held fast by Manik, I stepped into the lake; into frozen solid waters of lake Serolsar!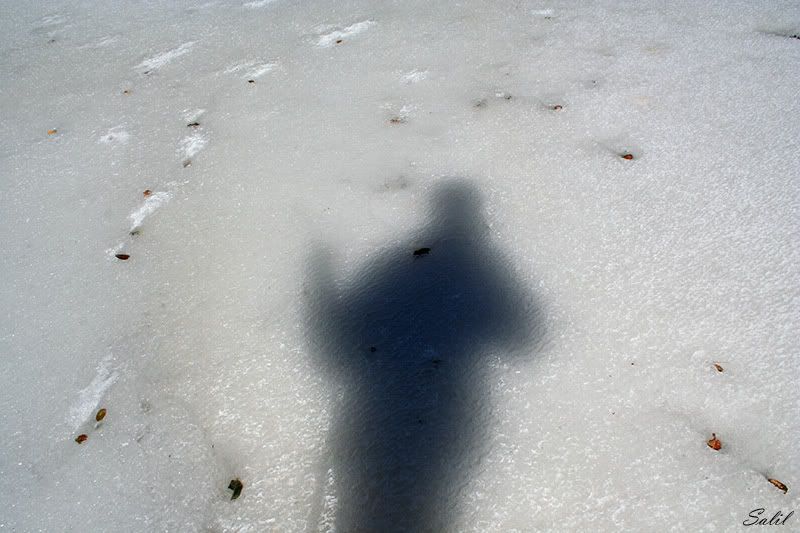 There after it was fun for hours, I crossed the lake on foot, made a video of it, and seeing me doing all this, even Manik stepped in!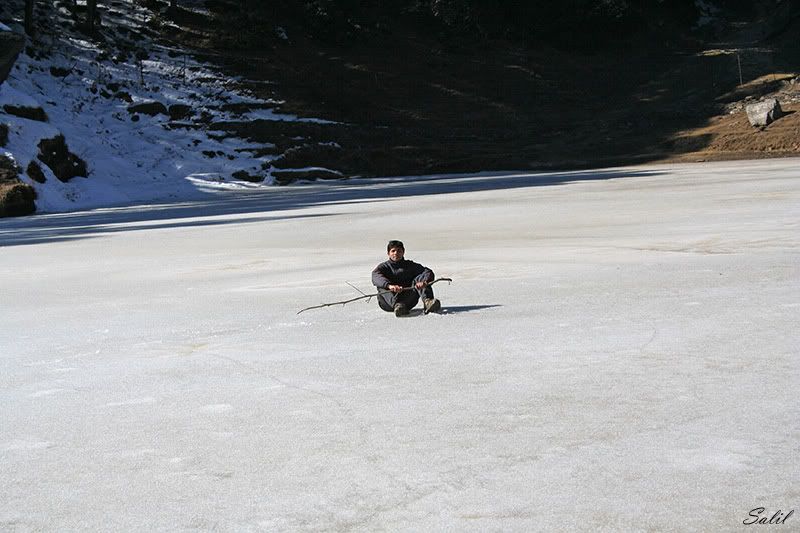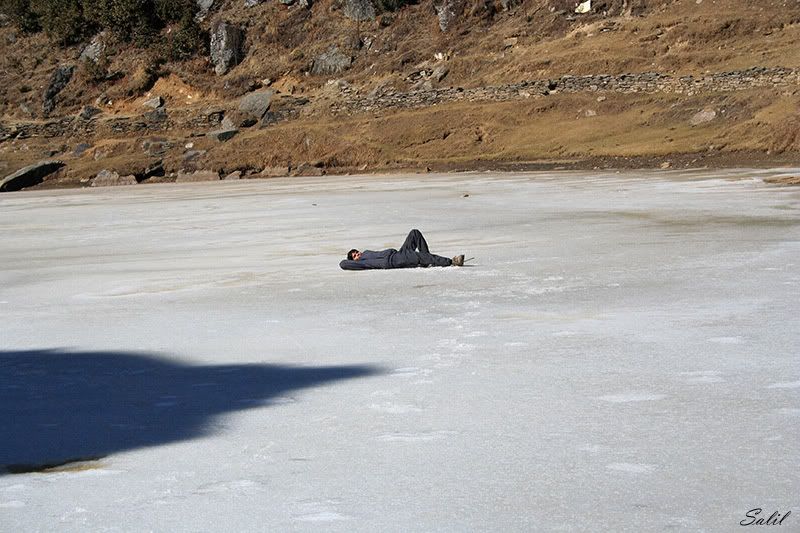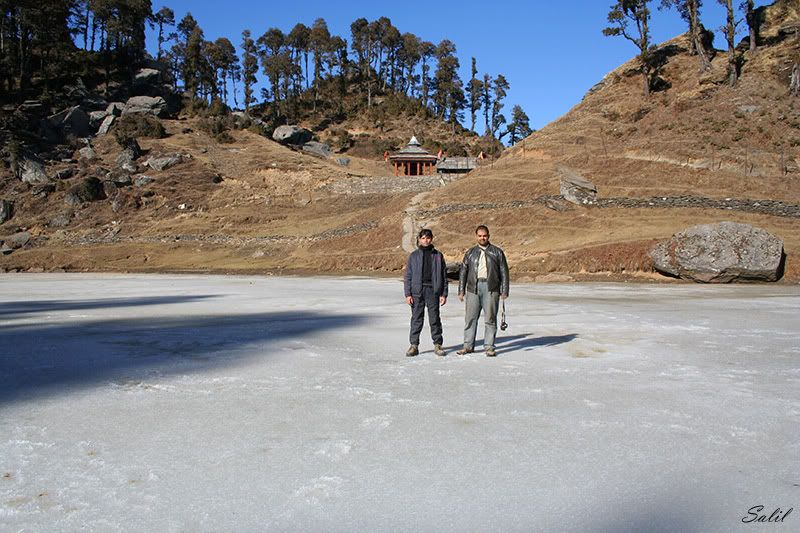 That's Manik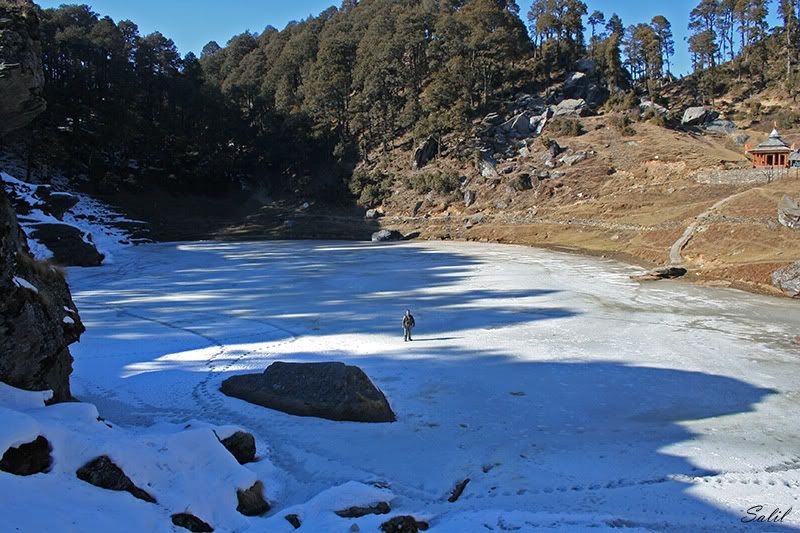 A parting shot... It was evening. We left for the rest house.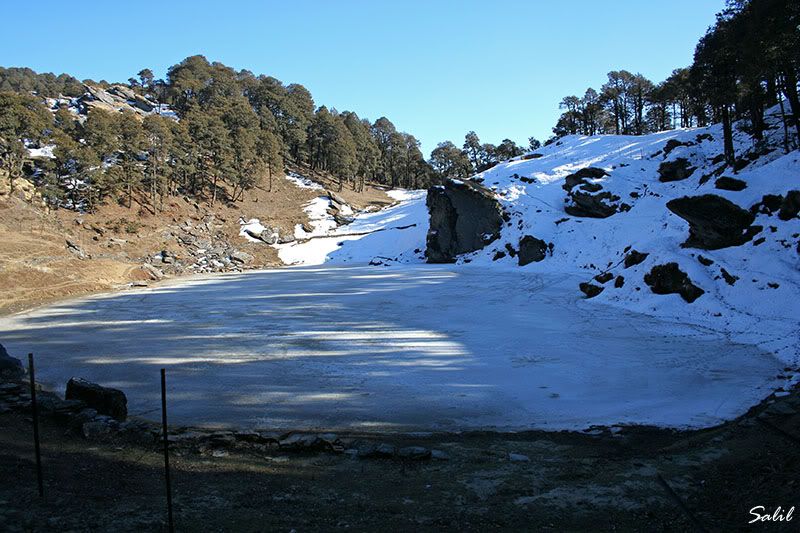 There were some steep climbs involved in the trek path.



Back at the rest house, we were treated to a dinner in the PWD kitchen with fresh rotis and dal.



Day 3 we rode back to Jalori pass and from there on to the other side, towards Shoja. The road from Khanag till Jalori is in a good condition with no snow or black ice anywhere, even though some parts of it were wet. But as soon as we started out on the other side, towards Shoja, we found this: A thick layer of ice covered with dirt. Very deceptive!



My bike did a 180 degree as soon as I touched this, and was facing the cliff now. Looking back, Manik was down and now lifting his bike up.

Manik wondering what hit him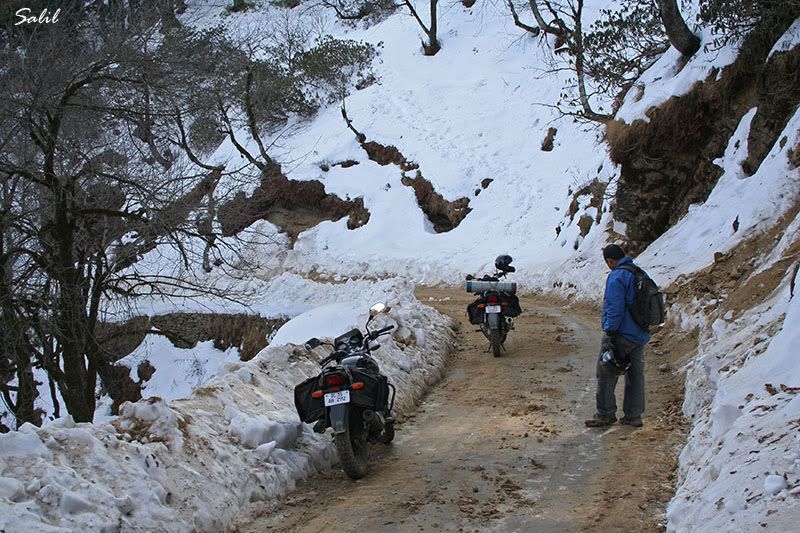 And we thought black ice and loose soil doesn't go together! That's brown ice for you.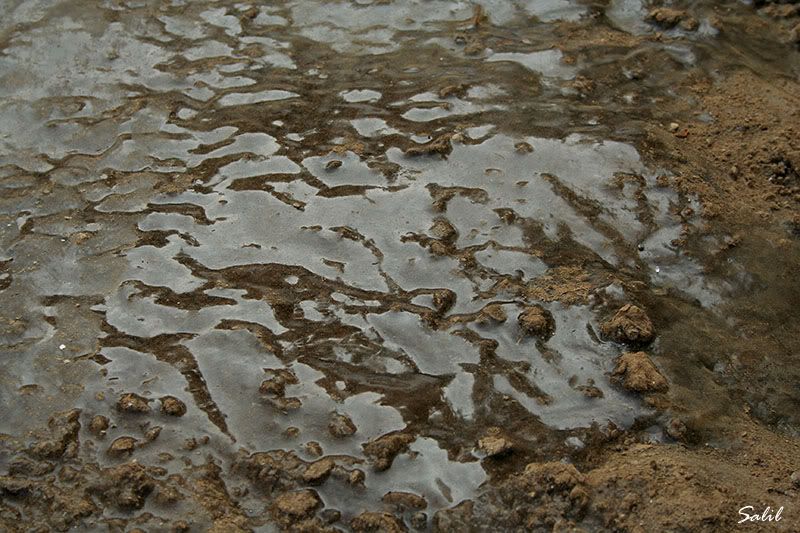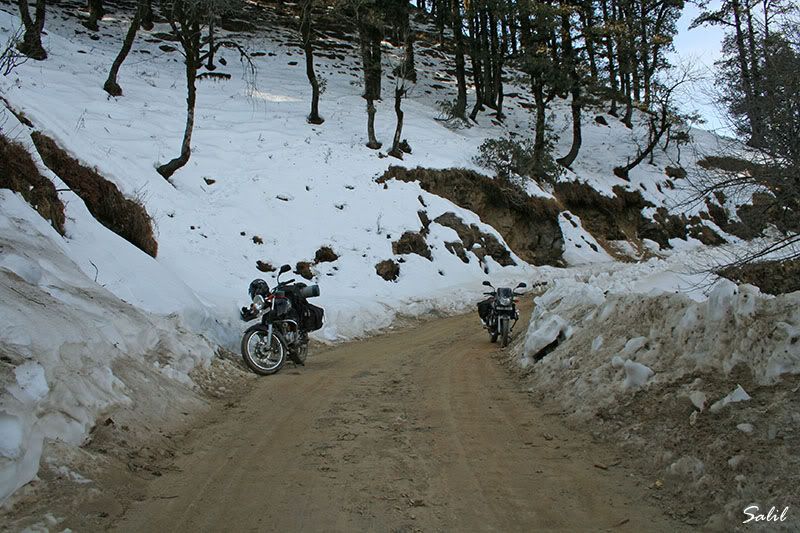 We rode on till there was no snow around, taking breaks every few meters for photography.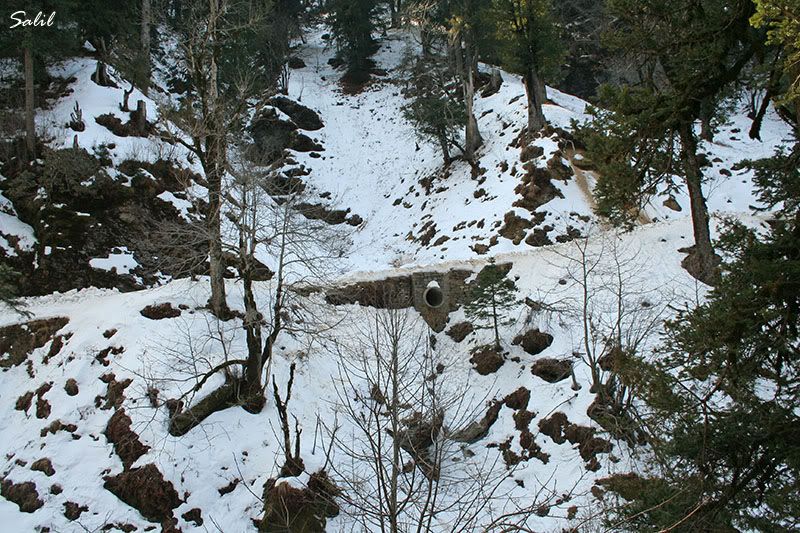 Icicles



It never fails to amaze me as to how things change as we cross passes in Himachal. The other side of Jalori pass was completely dry with nary a sign of snow or rain. And once we crossed over...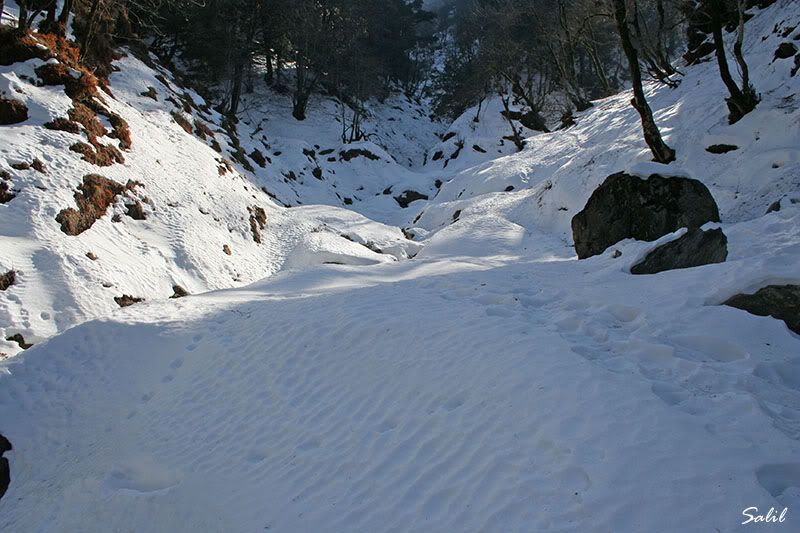 Photography in full swing!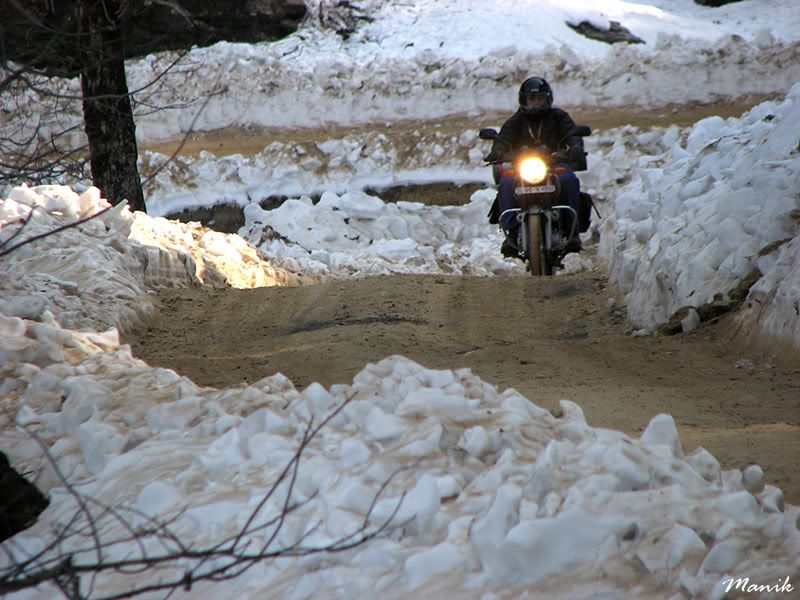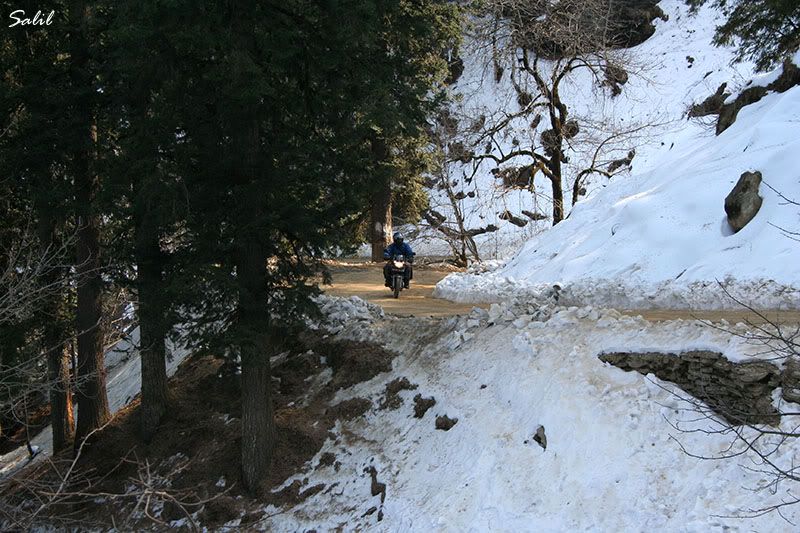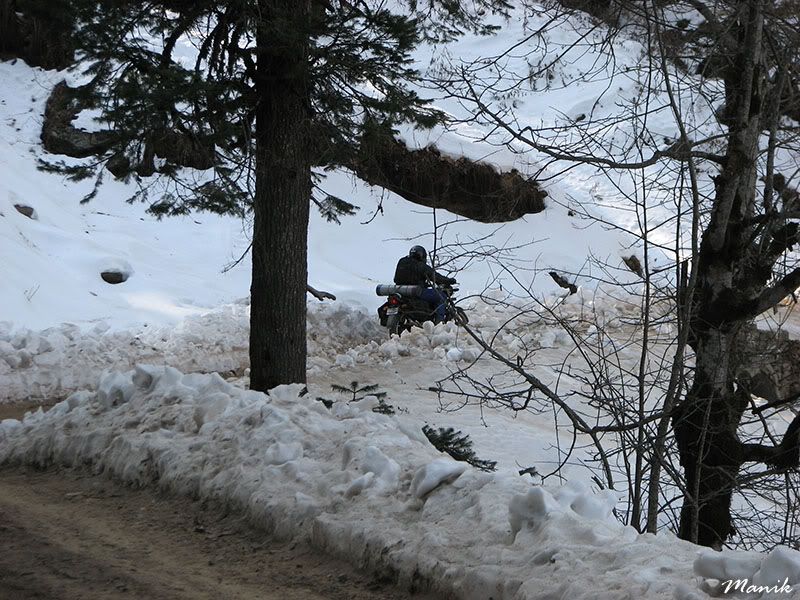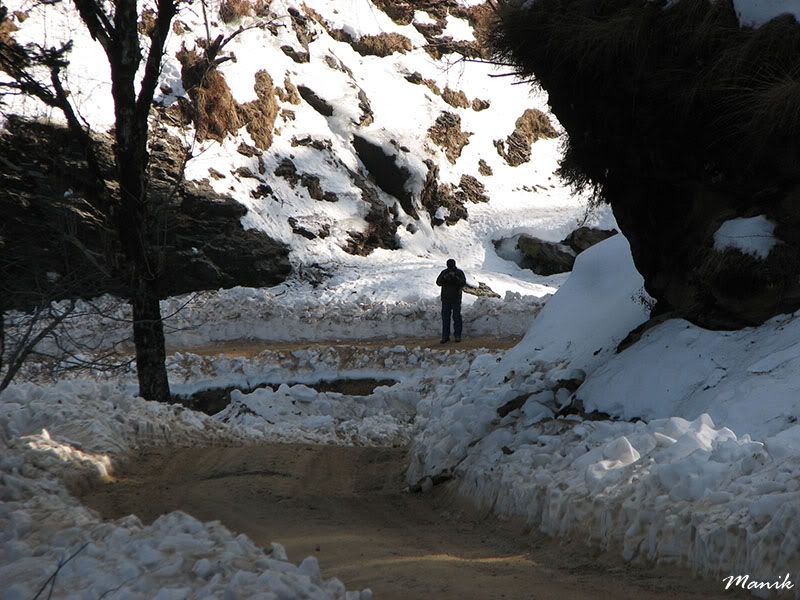 It was time to turn back now. Target for the day was Narkanda, and then Hattu Peak if we had some time left. Once we crossed over, I tried out some proper off-road ishtyle riding, taking curves sliding and drifting, standing on the foot pegs, while Manik made some videos. On the way back we explored a lot, taking new roads every now and then, and exploring new places like Kandagai and others, the names of which I don't remember anymore. We had some rains as we approached Narkanda. This and all the time we spent exploring meant we couldn't attempt Hatu this evening. But rains around Narkanda meant we should have some fresh snowfall at Hattu! So we decided to do Hattu first thing in the morning and checked into a hotel for the night.

Day 4, I come out of the hotel and find my bike not in a condition to ride:



There was this thick layer of frost on the seat. Manik was lucky, his bike being parked closer to the building. The only way out was to scrape the frost off the seat!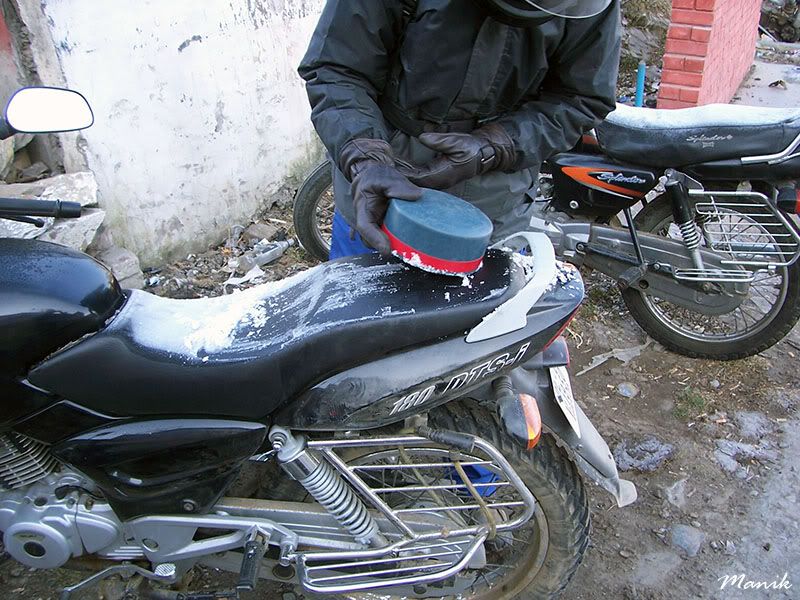 We started out and went straight towards Hattu peak. The ride up was wonderful, with the steep climb and narrow roads covered by pine trees.
Some way before Hattu mandir, we had patches of snow. The FKR showed it's worth again, climbing up in snow effortlessly, while Manik's knobbies were no good, giving no traction. Manik stayed behind, while I carried on. The snow got deeper and deeper and the going got tougher, and had to stop at a steep hair pin after even the FKR gave up.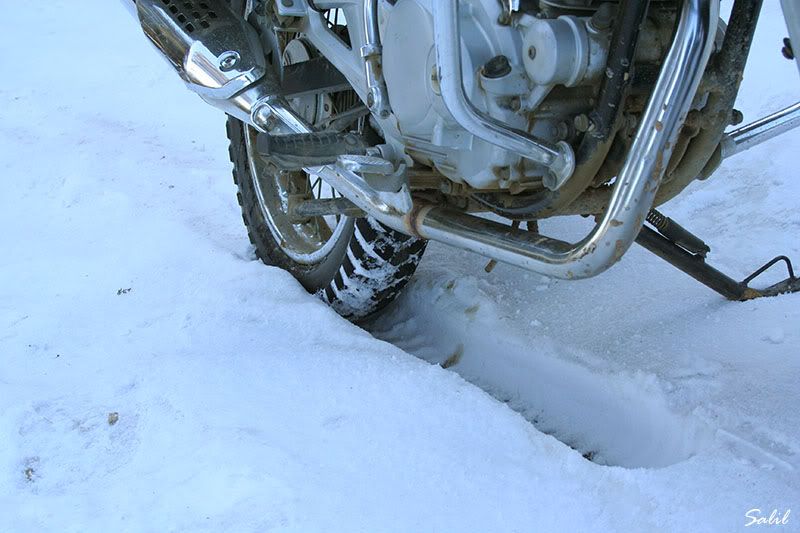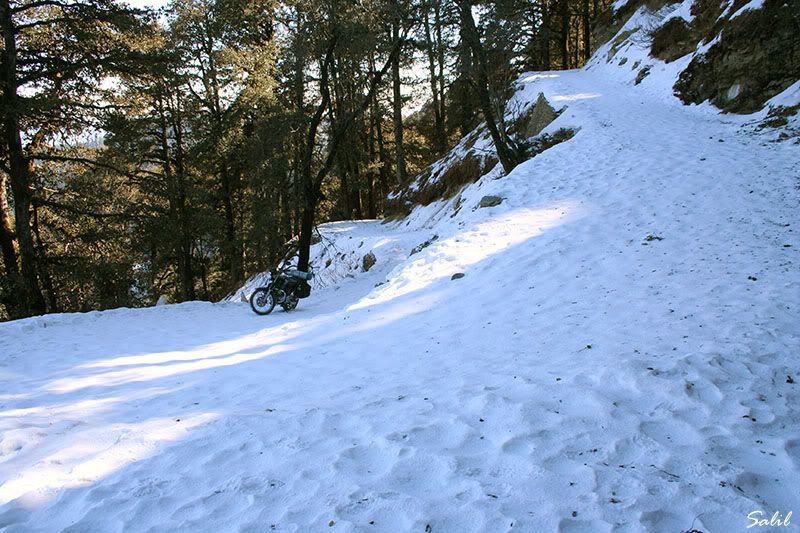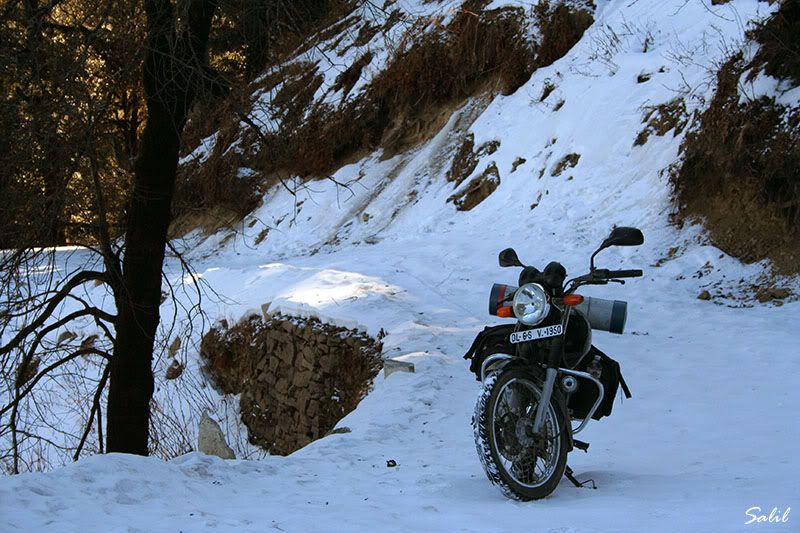 No amount of pushing and revving would get my bike to move an inch up from this spot.

Time to turn back now. And this was the most difficult part. I couldn't use the front discs on the steep descent with all the snow. And I couldn't use the rear brakes either since I had to keep both feet on the ground to balance the bike. So the way out was to turn off the ignition and fuel, slip into first gear and use the clutch as brakes. This worked like magic as long as I kept to pedestrian speeds. I stopped and got off at a hair pin bent to take some pics.

And now the interesting part; I mounted again, and habitually turned on the ignition! I intended to use the same technique (clutch + first gear) to continue climbing down but now, the ignition was on and the worst part was, I was not even aware of it. I started again and with the first application of the clutch to slow down, the engine burst into life and I instantly crossed the critical pedestrian speed limit after which no brakes can slow you down on a snowy descent. Sliding and locking wheels and using all my skills to keep up was not going to help me. I was gaining speed all the time and soon the straight stretch ended and had me riding towards the edge of the road, the deep Narkanda valley waiting to devour me. Brakes having failed long back, and steering as good as dead, I had only one choice. I locked the front brakes with the steering turned to one side. I fell down, and along with the bike slid on for a few meters and stopped a couple of feet from the edge of oblivion. That was the closest I got to ending my touring career and perhaps my life! Just two feet.

That last halt after which all hell turned loose was just a few meters ahead.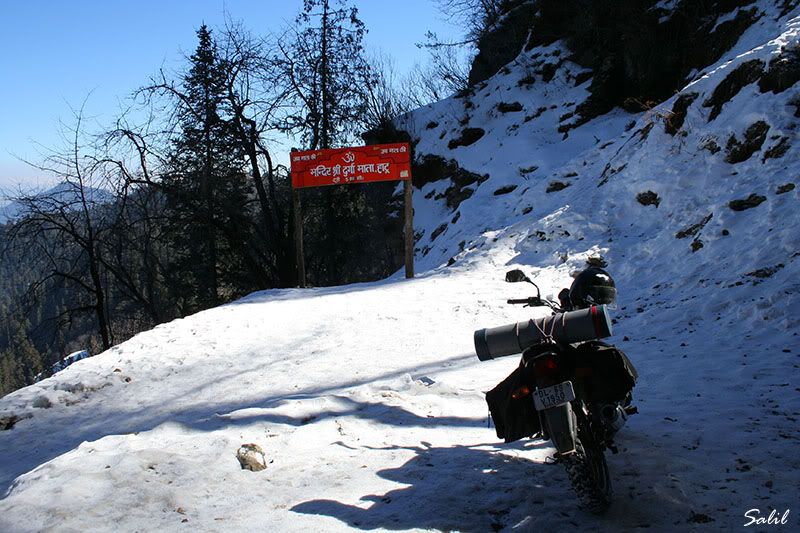 Comments:
hey salil and manik you both guy are so lucky that you search a heavenly place for us coz i m also make a plan to go out there in this october.pls guide me.my mail id is ravindergoswami24@gmail.com
Fantastic. I have been to this place couple of years ago. The view of the surrounding areas is out of this world.
Post a Comment
<< Home