Tuesday, February 27, 2007
Tehri and Beyond, February 2007
Day 2: Uttakashi - Bhatwari - Chamba
It rained through the night and it was still raining the next morning. Good recipe for landslides.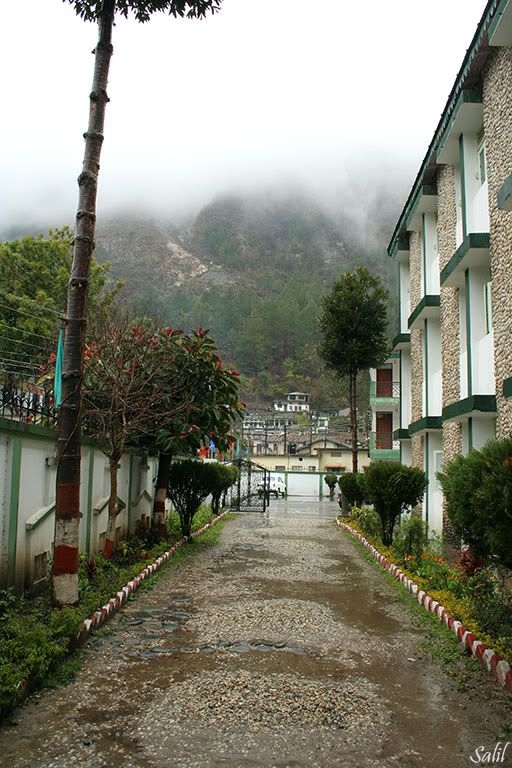 11 AM and there were no signs of the rains dying out. By 11:30, we were on the roads once again, cruising towards Harsil, rains keeping company all the while. Once I was as wet as I could get, I started enjoying the ride. 20 kms into the ride, we saw fresh snow on the peaks ahead and I had visions of a ride in the snowfall, with fresh snow flakes on the visor blinding me, bringing back memories of last year's Ladakh tour when we rode into snowfall at Tanglang la. 10 more kms and all my hopes crashed as we hit a road block caused by a landslide. There were 3 other landslides further up ans we were told it would take atleast 2 days for everything to be cleared. We were at Bhatwari now. There was nothing much that could be done now.

Plans changed again and we had an easy target for the day: Chamba. If the weather gets better the next day, we would have some time to explore the Tehri lake area. We stopped at a desolate restaurant – cum – hotel for lunch, stripped off all the rain gear and asked for the menu only to be told nothing's available for lunch, this being off season! We had to make do with tea and decided to reach Chamba ASAP. Moving on, the rains stopped for the first time since yesterday for a few minutes, and I got a chance to take out my cam for the first time in this trip. The results: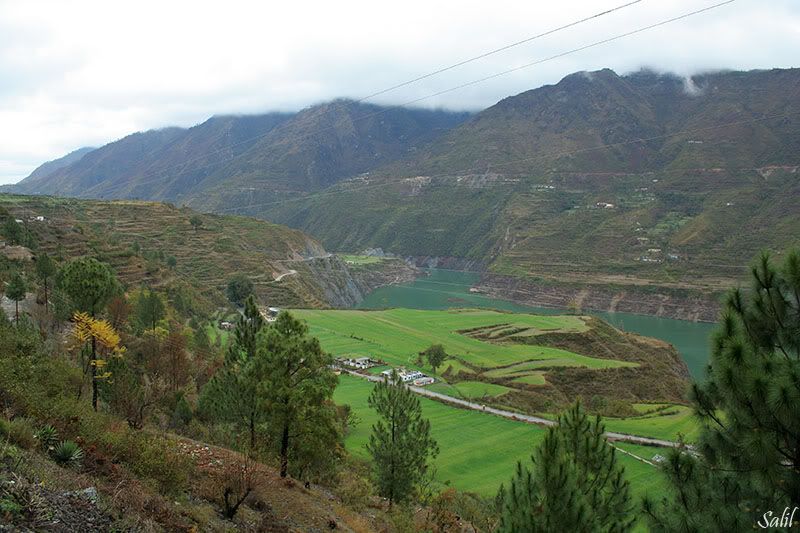 But a few minutes were all I got before the drizzle started again and I had to pack my cam off in a hurry. So off we went again, riding into the rain. We would have hardly covered 10 kms when things felt wobbly. Dixit was ahead of me and I was struggling to catch up. So I honked and honked till he stopped. It was the rear tyre again. Guess it is time to change the FKR. 2 Ladakh trips, one Spiti and numerous other trips had given me just one puncture over 2 years, while the last two trips (Serolsar and this one) grounded me with 3 puctures! This was a pretty deserted stretch and neither of us remembered when we had seen the last market/village/tyre service. So moving ahead was the only thing we could do.

Luck: Just 2 Kms ahead, 2 tyre service workshops.
Badluck: Both were closed… no power for the last week (some transformer tripped somewhere)
Luck : The neighbouring shop had the key to one of the tyre shops and it had a foot pump
Badluck : No knew where the tools were or how to fix a pucture.
Luck : We had all the tools, and a spare 120/80 tube (from my last tyre change)
Badluck : We changed the tube (for the first time in our lives), filled her up, fixed the wheel only to see the tyre still flat : what a time to discover the spare tube is puctured too! God knows how and why.
Luck : Some guy turned up from somewhere and claimed he can fix the punctured tube for 50 Rs.
Badluck : It was getting dark. No lights and it has been raining all the while.
Luck : Despite our apprehensions, the guy did fix the pucture.

The whole process of fixing the puncture and using the faulty foot pump to fill up took well over an hour. It was almost 8 PM and Chamba was still 30 kms away. It was pitch dark now and someone had the heart to mention bagh and some such terrible wild animals. Darn them, but the rains should keep them away and we continued on our away. It started raining harder and we suddenly found out the why! We ran right into a cloud and we could see nothing except big drops of rain in front of my headlight (god save my camera). Just as suddenly everything cleared up and we were able to see better. We kept riding into clouds and this slowed us down terribly. We reached Chamba around quarter to 10, hungry and drained to find every dhaba and restaurant closed. We checked into a hotel and the chottu there was kind enough to cook up some parathas and omlette for us.
Two days of riding in the rains and cold conditions later our hands were swollen and pinkish!


Day 3: Chamba - Noida
---
Day 1 : Noida - Uttarkashi
Day 2 : Uttarkashi - Bhatwari - Champa
Day 3 : Champa - Noida